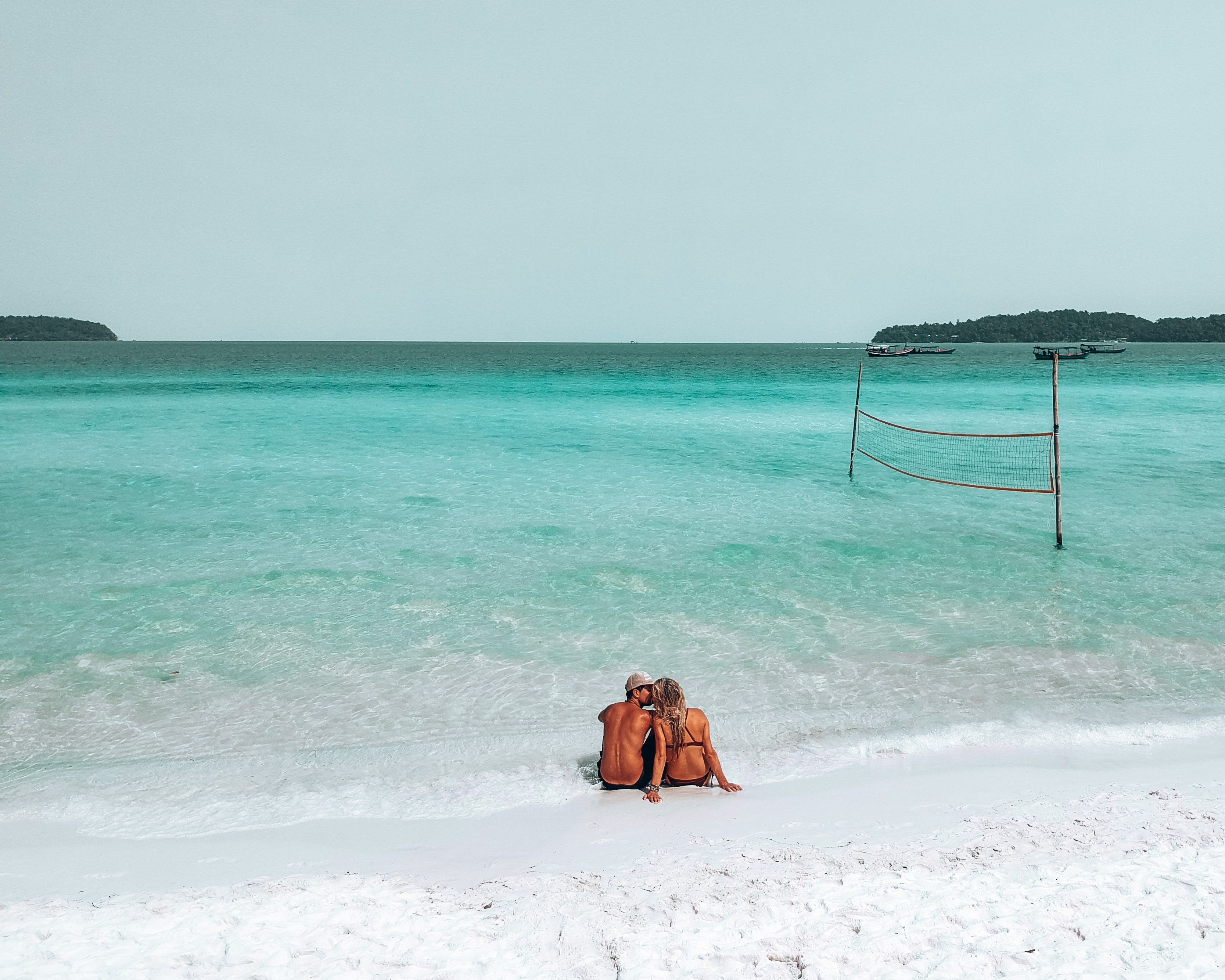 KOH RONG SAMLOEM
AN ULTIMATE GUIDE
ABOUT KOH RONG SAMLOEM
The Cambodian island Koh Rong Samloem is the little sister of Koh Rong, it´s smaller and very beautiful. On the whole island there are no cars, motorbikes or any other form of transportation. The only way of transportation is going from one beach to the other by Taxi boat. To get on the island you have to take a ferry or speedboat from the pier at Sihanoukville, which will take you about 1 hour. We actually planned staying three nights, but finally stayed 10 days on Koh Rong Samloem :)
WHERE TO STAY ON KOH RONG SAMLOEM?
We stayed at Bamboo Jam Resort at Saracen Bay, which is only about 5 minutes walking from the Orchid Pier. That´s quite nice, because you arrive at this pier by boat and so you don´t have to walk far with your luggage. The beach is several hundred meters long, so it can get quite long to walk.

Adam, the European owner of Bamboo Jam is doing a fantastic job and his friendly staff is here for you whenever you need them, be it for ordering food, booking some activities or getting information about anything on the island. They are always willing to help! :)

The resort offers private bungalows and villas located directly at Saracen Bay. All bungalows are with sea view and in front of your entrance you have your own hammock and some comfortable chairs to relax. Each bungalow has its own bathroom and breakfast is served directly to your door, that´s one of the things we enjoyed the most. You can choose the delivery time and your prefered meal the night before.


In general the food at Bamboo Jam Resort is just amazing! They offer typical Asian food and for dinner they probably have the best Seafood BBQ of the whole Saracen Bay with fresh fish and grilled vegetables!
BEST BEACHES ON KOH RONG SAMLOEM
The Cambodian island is known as a tropical paradise. You can choose between several fantastic beaches, which you can either reach by walking or by taking a taxi boat from the main pier. Here are our favorite beaches on Koh Rong Samloem:
SARACEN BAY
This is the largest and main beach of Koh Rong Samloem. If you come from Sihanoukville by ferry or speedboat you will arrive here. It´s a real paradise beach with crystal clear water and white sand. Most of the resorts are located here and you will find bars, restaurants and also a small supermarket. At night you can go swimming with glowing Plankton. Of all beaches we have seen on Koh Rong Samloem, this was our favorite! :)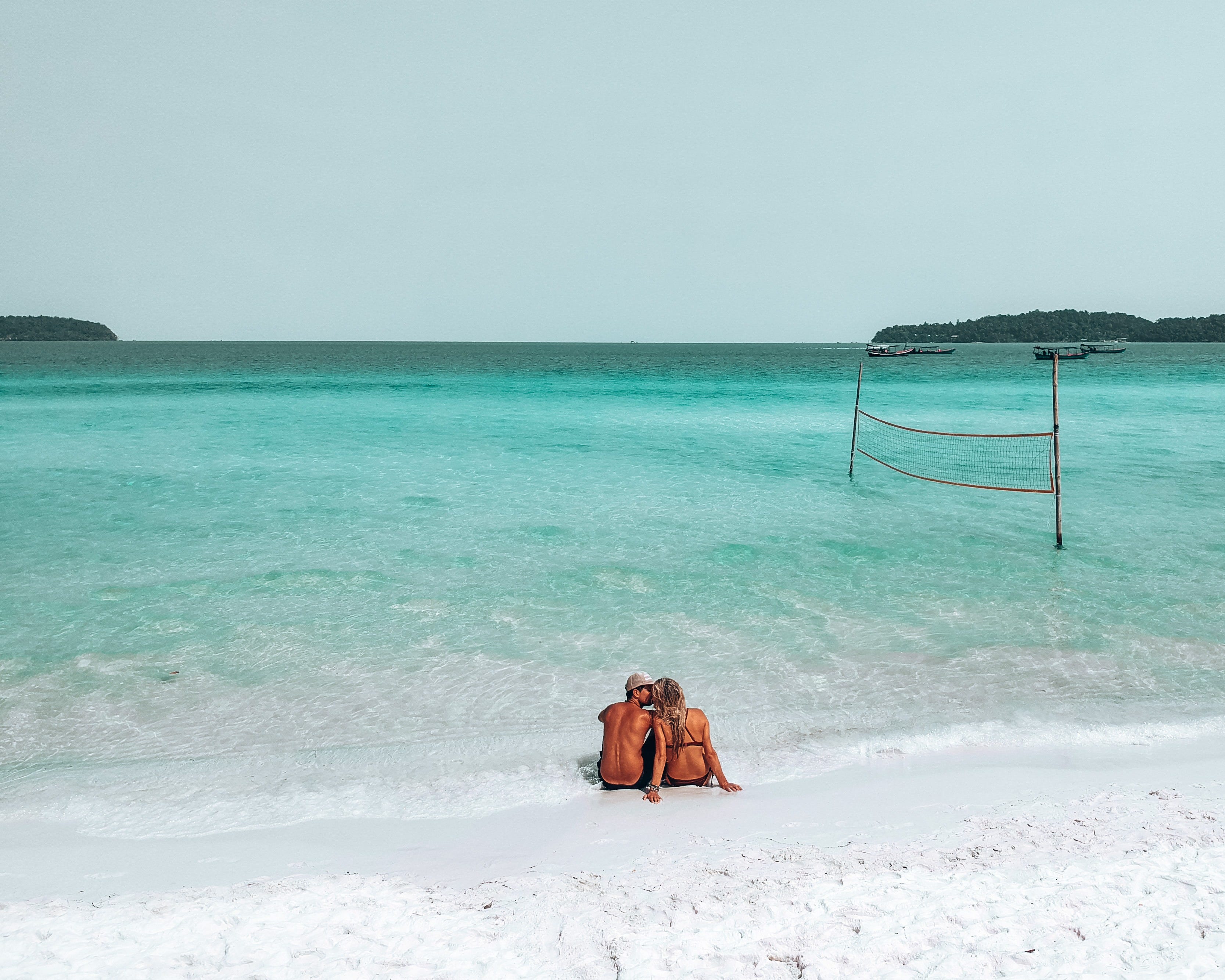 SANDY BEACH
Another beautiful beach, which is reachable by taxi boat from Saracen Bay in about 15 minutes. It´s a lot smaller and you will find only three resorts at Sandy Beach. We stayed there for three nights in Tube Resort, which we can really recommend!
LAZY BEACH
This beautiful beach is located on the opposite side of Saracen Bay. There is a path starting at Saracen Bay (next to "Octopussy Bar") which is going through the jungle and leading to Lazy Beach. It will take around 20-30 minutes, just follow the signs. At the beach you will also find a nice restaurant with delicious Cambodian food!
MILITARY BEACH
This beach we crossed when we walked from the Lighthouse to Lazy Beach. It´s very relaxed with few people. For us it looked more or less the same as Lazy Beach.
SUNSET BEACH
As the name says this is the best beach on Koh Rong Samloem for watching the sunset. We didn´t go there but we heard that it´s really nice. You will need about 30 minutes walking from Saracen Bay. Be sure to wear good shoes, as the jungle path is going up and down over some rocks!
THINGS TO DO ON KOH RONG SAMLOEM
HIKING TO THE LIGHTHOUSE (1,5 hours one way)
RENTING A KANU AT SARACEN BAY
SWIMMING WITH PLANKTON ON A DARK NIGHT
WATCHING SUNSET AT SUNSET BEACH
RELAXING AND HAVING LUNCH AT LAZY BEACH
PLAYING BEACH VOLLEYBALL AT SARACEN BEACH
GOING FOR A RUN AT SARACEN BAY FROM ONE END TO THE OTHER